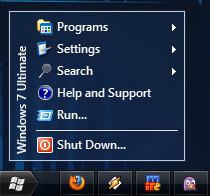 ClrSharp2 Glass with small icons and caption.
ClrSharp2 Glass
ClrSharp2 Glass is my second skin for Classic Shell, made to show the new FullGlass opacity mode added in Classic Shell 1.9.0. It also has the new skin options mode, adding lots of different customization options. The full glass mode also adds glassed submenus, and the colour of the whole skin changes based on the colour of your windows aero.
ClrSharp2 Glass was made to be used with Classic Shell 1.9.0 and the Clearscreen Sharp visual style, made by K-Johnson. It might not work as intended on other visual styles, or on newer versions of Classic Shell.
ClrSharp2 Glass at DeviantArt
Screenshot of some other modes.
Another screenshot.