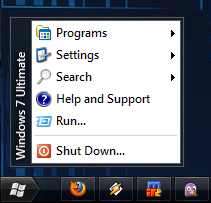 ClrSharp1 Classic Dark floating with caption and small icons.
ClrSharp1 Classic
ClrSharp1 Classic is a skin for Classic Shell. It was the first skin I made, and was made with the first skinning engine of Classic Shell. It lacks lots of the new features added in Classic Shell 1.9.
Light Floating was originally inspired by the 'show hidden notification icons' popup of the Clearscreen Sharp VS. The Dark style was made to better match the taskbar and original start menu.
ClrSharp1 has light and dark skins, with floating and nonfloating main menu. All versions also have small icons mode and optional caption.
ClrSharp1 was made to be used with Classic Shell 1.0.1 and the Clearscreen Sharp visual style, made by K-Johnson. It might not work as intended on other visual styles, or on newer versions of Classic Shell.
Screenshot of the other modes.